Connor Construction (South West) Ltd are becoming the UK's leading Road Construction company. They seem destined for success due to their constant growth, popularity as a brand and incredible fleet of machines and trucks. They have worked all over the Uk, as well as The Falkland Islands, Dublin and Cyprus. Not bad for a company that 10 years ago consisted of 1 man and a van.
But that's what dedication to good site practices, quality workmanship and being known as a great employer do. Not only do you attract the most skilled professionals from the industry this way, but this in turn results in expert workmanship and happy clients.
There wouldn't be much point in having such an impressive and sought after fleet of Pavers, planers (and a long list of other machines),  if they didn't have the haulage to back it up. I'm sure you will agree from the examples below that transport and HGV is not an afterthought for them.
By the way, are you looking to get some excitement back into your career? Because they are currently recruiting for a Transport Manager. Apply here.
Custom-Designed Bitumen Emulsion Spray Tankers
Try saying that fast 3 times! You may have seen mentions of these online and in Asphalt Professional magazine. Why? Because they are incredible and deserve shouting about. Managing Director, Ian Webb, designed unique modifications to the design of regular    Tanker Sprayers to improve the health and safety and quality of these machines. This proved a very attractive move to clients as they are in constant use. Find out what and how they did that here.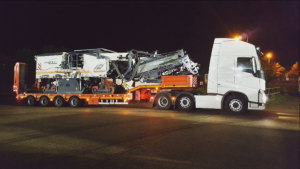 Low Loaders
With a smart fleet of low-loaders already on the scene, Connor Construction (South West) Ltd have acknowledged their need for more this year, with new additions on the horizon for 2018.
What's more, they are re-designing their fleet with some help from local Graphic    Design students at Frome College. Each low-loader will have new sign-writing and graphics, as well as a custom, individual mural for each truck.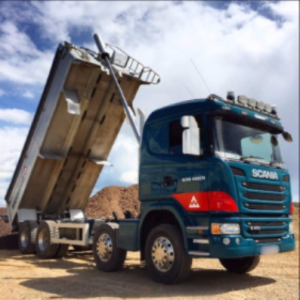 Tippers
Their most recent addition to their fleet of Tippers was a brand new Scania G410 kitted with bed, t.v, fridge, microwave, climate control and impressive light bars and fittings. Let's just say that they regularly receive interest from Drivers looking to proudly work in this truck. They also have other Tipper trucks specifically working for their planing division.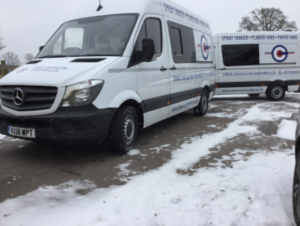 Custom-Design Vans
'Out with the old, in with the new' comes to mind here. Older vans are regularly being replaced for new, custom vans designed to meet the needs of both their Planing and Surfacing teams individually. Kitted out with seating areas, ample storage, t.v's, surround sound, kitchens, refrigerators, bunk beds and climate control simply because they recognise the importance of their Drivers and teams welfare, which helps them to maintain their high standards of concentration and work in return.